A compact dwelling design is increasingly popular in the city. Urban dwellers tend to spend more time engaging in activities outside the house. The house serves only as a place to rest and gather with family. The short availability of land in urban area and the increasing land price are among other reasons for the emergence of compact urban houses.
Private lifestyle and dense urban environment require some changes in residential layout from the common traditional layout. Where the main activities were used to be located at the front of the house, they are now mostly placed at the back with more privacy, while the service area such as maid quarters, washing room, drying room, and preparation rooms are located at the front part but hidden from the main access. Open space like garden is also integrated with the interior space of the house.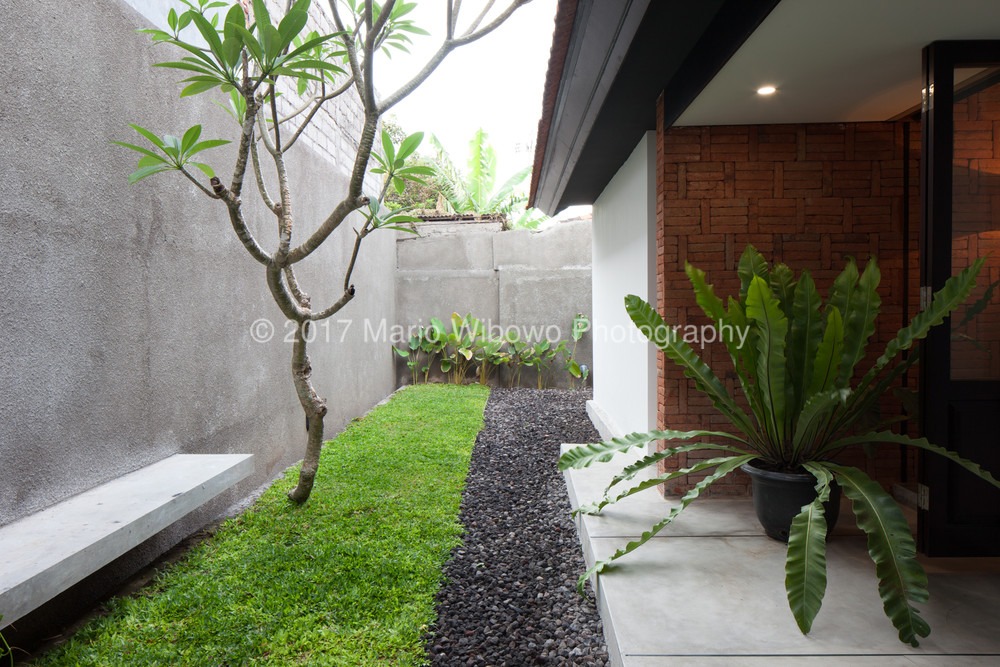 Garden behind the building
The facade of the house, especially the one facing the main road, is usually designed with minimal openings for privacy and noise buffer. The hustle and bustle of the city and a sense of security are the reasons why the back part of the building is used as the main activity space.
This condition is in contrast to the common house layout that existed before year 2000. Back then, the layout composition of the house started with the guest reception room at the front. The living/family room is located behind a guest reception room separated by a wall or huge decorative shelves/drawer. Followed by dining room, which is separated by another wall. It all changed due to less availability of large plot of land in the city caused by the increased land price.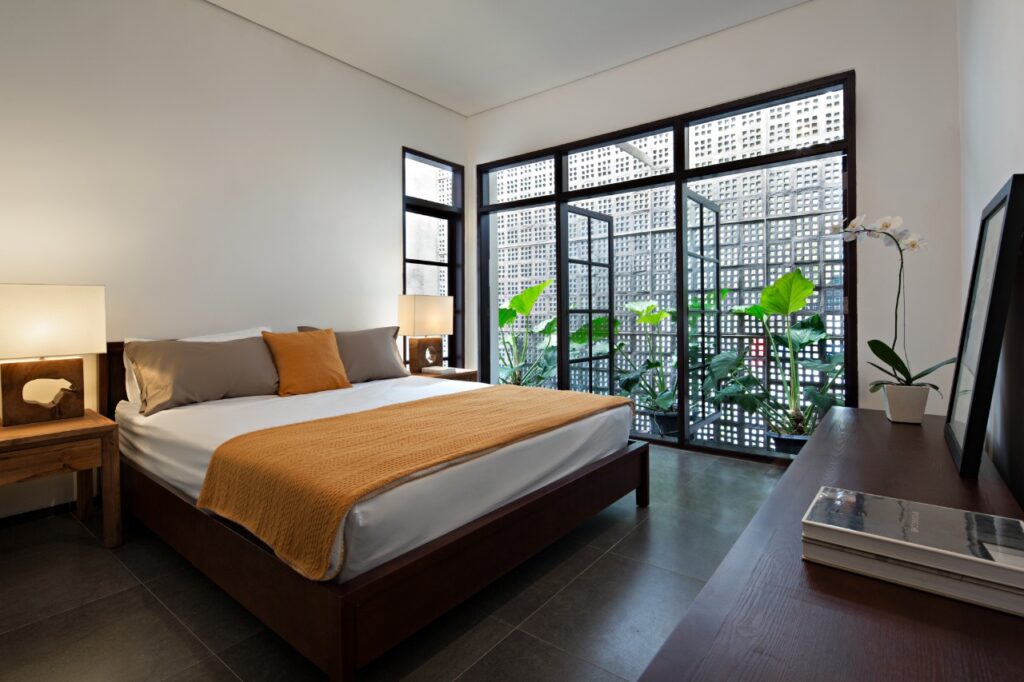 Integration of indoor and outdoor spaces
Creating flexible layout that can be adjusted to the changing needs of the dwellers becomes important in compact urban house design. As the urban society becomes more individualistic, the chance of the house being visited by guests becomes lesser. Thus guest reception room is no longer a necessity. A compact urban house tends to have one room that serves as both reception room and a living room for the family. The front porch of a house or a foyer may also function as reception space for guests. With designated guest reception room is no longer required, the area for other rooms can be made bigger.
Integration between inside and outside space is also considered for optimizing the natural light. This integration also aims to create both spatial and visual connection between outside and inside, so that one can still experience the greeneries while inside the house. Optimizing the natural light is an effort for energy savings. While the green connection creates a cool atmosphere for the inhabitants.
The use of compact and multifunctional furniture is another effort to create a compact urban house design, for instance by replacing big sofas for guests with more compact chairs. Or to integrate drawers into the bed frame for storage space.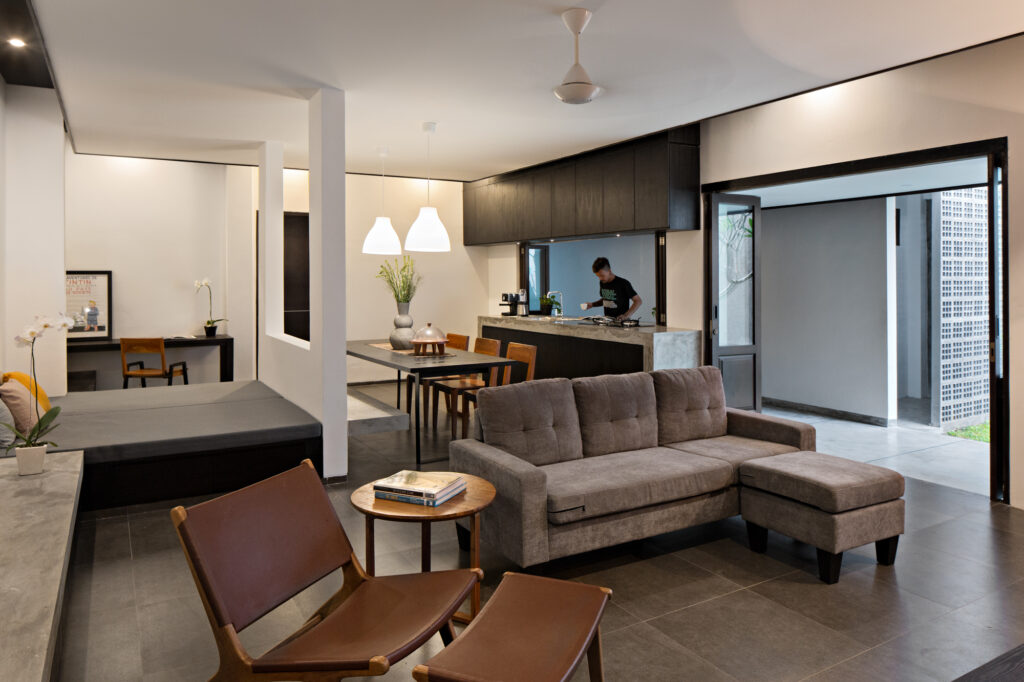 Flexible spaces are created by removing fixed partition walls. Partition walls are made flexible and can be in the form of a furniture. Space can be defined by floor pattern, ceiling configuration, or furniture layout, thus the space could be more fluid, yet compact.
___________________________________________________
Rumah Urban yang Compact Alternatif Hunian di Perkotaan
Rumah urban yang compact adalah design hunian yang kian diminati. Penduduk kota  cenderung menghabiskan lebih banyak waktu untuk beraktivitas atau bekerja di luar rumah. Maka ketika berada di rumah setiap orang ingin menikmati waktunya bersama keluarga. Rumah hanya berfungsi sebagai tempat istirahat dan berkumpul bersama keluarga. Ketersediaan lahan perkotaan yang semakin minim dengan harga yang terus melambung juga menjadi alasan lahirnya layout rumah urban yang compact.
Pola hidup yang semakin privat dan kondisi lingkungan perkotaan yang padat membuat layout berubah. Saat ini ruang utama rumah justru terletak di bagian belakang bangunan. Ruang terbuka seperti taman juga dikonsentrasikan ke area dalam rumah. Sementara area servis seperti ruang kerja pembantu, cuci-jemur, dan kamar pembantu justru terletak didepan bangunan. Tersembunyi di dalam bidang-bidang masif. Tampilan rumah juga dirancang dengan bukaan jendela yang minim. hiruk pikuk perkotaan dan naluri untuk memperoleh rasa aman menjadi alasan lain mengapa bagian belakang bangunan dijadikan sebagai ruang utama.
Kondisi ini berlawanan dengan layout rumah pada umumya yang eksis sebelum tahun 2000. Di masa itu, susunan rumah dimulai dengan ruang tamu di bagian depan. Ruang keluarga berada di balik ruang tamu yang dibatasi dengan dinding atau lemari besar. Kemudian ruang makan yang dipisahkan oleh bidang lainnya. Ketersediaan lahan yang semakin minim dengan harga yang semakin tinggi menyebabkan layout ini mulai digeser dengan layout rumah urban yang compact dan fleksibel.
Menghadirkan ruangan yang multi fungsi menjadi salah satu alternatif untuk melahirkan design rumah urban yang compact. Aktivitas bertamu yang semakin menurun menjadikan ruang tamu tidak terlalu dibutuhkan lagi. Sehingga rumah urban yang compact cenderung memiliki satu ruangan yang berfungsi sebagai ruang tamu sekaligus ruang keluarga. Teras depan rumah ataupun sebuah foyer juga sering kali dirancang untuk menggantikan peran ruang tamu. Dengan demikian maka tidak lagi diperlukan satu ruangan khusus untuk ruang tamu, sehingga luasan untuk ruangan uatama lainnya menjadi lebih besar.
Mengintegrasikan antara ruang luar dan ruang dalam juga menjadi hal yang diperhatikan untuk mengoptimalkan pemanfaatan cahaya alami. Integrasi ini juga bertujuan agar kesan hijau tetap dirasakan meskipun sedang berada di dalam ruangan. Mengoptimalkan pemanfaatan cahaya alami adalah upaya untuk melakukan penghematan energi. Sementara kesan hijau yang sampai hingga di dalam ruangan menimbulkan suasana sejuk bagi penghuninya,
Penggunaan furniture yang ringkas dan multi fungsi menjadi upaya lain untuk mewujudkan design rumah urban yang compact. Seperti menggantikan sofa-sofa untuk tamu dengan kursi yang lebih ringkas. Hingga membuat dipan yang disertai dengan laci untuk menghemat tempat untuk ruang penyimpanan.
Kesan luas dan lapang ditimbulkan dengan merancang ruang utama menjadi ruangan besar dengan meniadakan sekat-sekat berupa dinding dan lemari. Pembatas antar ruangan dirancang dengan lebih lues. MIsalnya dalam bentuk pola lantai, plafon, atau sekedar penyusunan furniture. Dengan demikian, rumah urban tidak hanya menjadi compact, tetapi juga menimbulkan kesan yang fleksibel.