In a typical house design in Indonesia, living room is commonly located at the front side. This space serves to receive guests and communicate with outsiders. As a "welcoming space" it is important to create an elegant and comfortable design for the living room. It is, in a way, an impression of your house images. But what if the space is narrow? Is it possible to create an elegant and comfortable living room in a narrow space? Of course you can. This is where an interior design comes into play, providing advices on how to negotiate with the narrow space. Here are five tips and tricks for creating an elegant and comfortable living room in a narrow space:
1. Use furniture with minimalist concept
Minimalist furniture has a simple and elegant design but still functional. The concept of minimalist furniture is suitable for use in spaces of narrow size because it looks light and chic. You can combine furniture such as a sofa or a minimalist lounge chair with a standing lamp so that the space doesn't seem monotonous.
2. Apply bright color paint for spacious impressions
Painting walls with bright colors such as white will make your living room seems more spacious and clean. You can combine white wall colors with matching floor and ceiling material to make it look elegant.
3. Provide wide openings
Psychologically, there is no human who likes to be in a narrow space as it creates stressful and discomfort feelings. You can overcome a narrow space by providing full-height windows and/or large openings. It would be better if you have extra space in the form of a garden or terrace by the side of the room as an extension of the room and to beautify background of the room. This way a close connection between humans and nature can also be created.
 4. Combining the living room with a family and/or dining room
To minimize space usage without reducing comfort, you can combine the living room with family room and/or dining room. The living room will also function as sitting room where family members or guests can chat or gather. Guests and family members can dine together at the dining area which is integrated with the living room. By using this concept, you will get a space that is efficient, unique, and heartedly warm.
5. Avoid using excessive decoration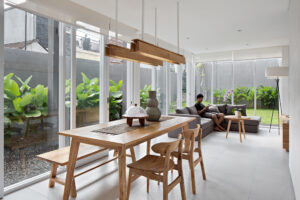 Decoration can be added to a room to make it look beautiful and creates focal point. You can add paintings, artworks, or framed photos in the living room. However, excessive use of decorations in a small or narrow space may take up functional space in that room and creates crowded feeling. So if your living room is small or narrow, keep the decorations minimum and focus more on the necessity.
Lastly, creating an elegant and comfortable living room in a narrow space is not a mere wish. Try to apply the above tips & tricks to get the ideal living room for your house.